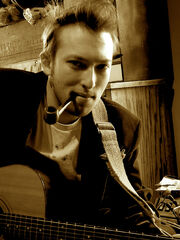 Justin K. Rivers (COM 06) grew up in rural New York. He majored in film and minored in Sociology at Boston University. He has lived in Boston, Los Angeles, and New York.
At BU, he was a member of the award-winning improv comedy troupe, Liquid Fun, and also served as president of the Creative Writing Club. In 2005, he produced a feature-length radio play for WTBU entitled End Transmission. He was also published in the Back Bay Review and in the Clarion literary magazines, and his short story Her Strawberry Ghost featured in the erotica anthology Boink:the Students Guide to Carnal Knowledge in 2008.
Justin joined Shadows in 2002, when he was cast as Jakob Resh[1]. In 2004, he and a new production team rebooted the series, creating The Agency and the current, noir-ish procedural format. He wrote several episodes for the series, including "The Captives", and directed "The Prisoner's Dilemma". He has also worked as a producer and editor on the series. His total work on the series spans 12 episodes. After college, Justin interned for the Jim Henson Company, worked as a sound designer, and spent several years working for Playboy TV.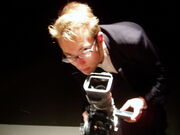 He founded the Audio Drama Wiki in 2011 and writes Modern Soundling, a blog about modern audio drama.
He is now a grant writer and can be found performing most weekends with the professional improv troupe, The Mop and Bucket Company in Schenectady and Albany, NY.
External Links
[
]
References
[
]